Roleplay Information
Late Autumn
Breeding:
Yes
Birthing:
No
Males:
6
Females:
5
Total:
11
Open ranks
Beta ♀
Delta ♂/♀
Guerrero ♂/♀
Explorador ♂/♀
Centinela ♂/♀
Curador ♂/♀
Aprendiz ♂/♀
Cachorro ♂/♀
Solitario ♂/♀
Staff
Admins

Motomo/Lupa
Taciturn/Kaput
Most Respected Wolves
Lupa - Alpha Female

Taciturn - Beta Male

TACITURN
/ˈtasɪtəːn/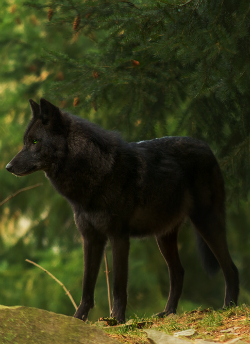 Basic Information
B
rute (Male)
4
Summers of age
H
eterosexual
C
anis lupus labradorius (Northern Quebec)
B
eta
Appearance
W
ith a base coat of thick, air tight and inky black pelting, this barrier of pelt is used to keep Taciturn warm and protected from the falling waters of heaven. The second layer of fur i'snt much different, though it does have a barbed, wiry look to its strands. It is well nourished with patches of summery charcoal and sooted shades, located on the flanks, haunches, muzzle, beneath the eye sockets, tail tip and shoulders.  
B
uilt with a broad bone structure holding an above average stature, Taciturn isn't small. His paws are large enough to support his weight and his tail droops down 5 inches from the ground. His muscles are prominent enough to be viewed through the thick pelting that becomes finer towards the legs, the separation of muscles holding a darkly shaded crevice. His muzzle is long but not thin, ears are large but not short, he is in perfect proportion with himself.
T
he optics are coloured with topaz and pear, the tones merging into a lime like shade. This surrounds the edges of the iris with a thick circle of peridot and emeralds shades, darkening further towards the edge.
Mass, Height, Length
M
- 50kg (av)
H
- 95cm (ab-av)
L
- 120cm (ab-av)
Persona
W
ith little inner juvenile antics and an unyielding outer shell to stick to his own, this brute can hold a conversation with most of nature though lupins are not on the list. He'll answer when addressed but other wise has a very awkward social side. Don't think of this as a disadvantage, he will scold and put those who disrespect in place when needed. Although not noticeable to be very dominant, this allows this male to be very approachable, even in the situations where it isn't wanted. He is rather laid back when one has gain his trust but otherwise will see others through their rude normalities and how they act when a more dominant rank comes into play
L
ikes:
- Autumnal months (September, October, November)
- Lakeside locations
- Secluded areas
- Further Knowledge
D
islikes:
- Conversion with other(s)
- Claustrophobic spaces
- Rude outbursts without reason
- Long periods of gloomy forecasts
S
trengths:
- High levels of fortitude
- Strategic agility
- Only speaks when addressed
- Over-sensitive hearing
W
eaknesses:
- Lameness (Right, front)
- Weak sense of smell
- Pelt colour (occasionally autumn)winter months)
- Social awareness
History
H
istory:
F
amily:
SocialS
ingle
C
rushing on: History may catch up upon him.
M
ated with: N/A
O
nce mated with: Lupa
L
itters: N/A
B
est Friend: N/A
F
riends: N/A
A
cquaintances: Lupa
E
nemies: He doesn't stick around to get to this point
A
rch enemies: His father
StatsStamina:
7
Speed:
6
Strength:
7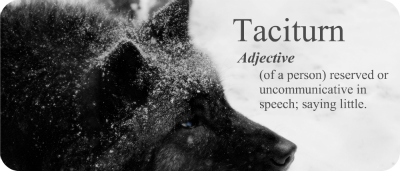 Last edited by Taciturn on Sun Nov 22, 2015 11:08 am; edited 5 times in total
The biography is accepted, once you've posted in the role play once your biography will be moved to the accepted biographies board.


Similar topics
---
Permissions in this forum:
You
cannot
reply to topics in this forum